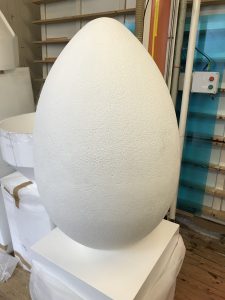 The Wonderworks has created four giant Easter eggs to help a shopping centre launch a competition for local school children.
Each measuring 1m high, the eggs were sculpted in polystyrene and completed with a special finish to create a perfectly smooth surface ready for pupils from four local primary schools to decorate.
Taking pride of place in the heart of the shopping centre, the eggs were mounted on 70cm high plinths also created by the Wonderworks. These were sprayed white before we added the branding for each school.
Rob Curran, managing director of the Wonderworks said: "It's been fantastic to play a part in this initiative and see the creativity of local school children. The size of the eggs and the bright designs have created a really engaging display and has proved a great way to attract members of the local community into the shopping centre."
The eggs are on display throughout the Easter holidays. Shoppers can vote for their favourite and the winning school will receive £200.